Post by Maryna Nikol on Jan 31, 2008 18:09:44 GMT -5
Name:
Maryna Nikol
Age:
12
Gender:
Female
Race:
Human
Homeworld:
Lyra's world
Weapons:
Maryna usually uses her hands, feet, and teeth but she also carries a small dagger around, just in case things get out of hand. She usually uses natural materials, what ever she can find. An example would be sticks. She is also knows to hurl dirt balls at foes.
Appearance: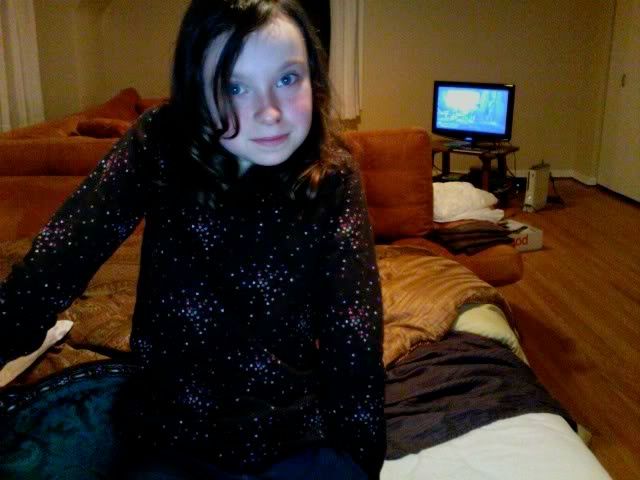 Maryna's face usually wears a smile. She has brown hair, but it is unique. This is because her hair is a mixture of all shades of brown(hard to see in picture). Her eyes are unique as well. From afar, they look simply plain blue, slightly lighter than the average shade. However, if you look closely, you see that her eyes have green in them. Farther away from her pupil, there is blue. But as it gets closer to the pupil, her eyes turn green, going through all shades in between blue and green.
Maryna is unusually small for her age, so she is very stealthy.
Personality:
Maryna is inquisitive and modest. She can loose her temper quick as a flash. She is fun to have around, and can make a boring turn into fun. She is very imaginative, and quite a violent imaginer, at that. However, she hates to see people being hurt in real life. She is fiery, and it doesn't take much to get her worked up. She is quite bold. She is also very troublesome, and hard to control.
Maryina uses her smallness as a strength is many ways. She is a great spy, and can weave through thick crowds easily. She loves to attack people by leaping onto their backs and biting down on their shoulders.
Maryna is very tomboy-ish, and hates girly-girls so much. If you call her a girly-girl, you'd be dead within the second. Well maybe not dead, but scared enough not to do it again. Despite her size, she has huge feet, and is very clumsy!
History:
Maryna's life isn't too interesting.
She was born to a rich family, with an older brother, Lukuss. Right now, he is in University. She never really enjoyed being rich. She loved the way the gyptians lived. She made many gyptian friends, but as the Gobblers came, they were slowly taken away, one by one.
Now, Maryna had a little brother as well, named Harold, or Harry for short. He was one of the first victims of the Gobblers. He and Maryna had been out for a walk one day. Suddenly, a man dressed in black jumped out of the bushes and attacked. Maryna was distracted fighting off his leopard Daemon, and the man took Harry away. The next thing Maryna knew, the men and his daemon were gone, and Harry had vanished a long with them. Tearfully, Maryna ran back to her house. As soon as her parents heard the story, she was immediately under house arrest.
Maryna hated being house-arrested, so she crept away one night. After that, she began doing more and more often, until finally her parents noticed. They had a serious talk with her. They saidmthey decided they would have to let her go out of the house, but they gave her the dagger to make sure no Gobblers got her. Luckily, she hasn't had to use it... Yet.
Other:
Nope!
____________________________________________
Dæmon Name:
Eomer (Eo for short)
Dæmon Animal:
He hasn't settled yet. Usually raccoon, cat, fox, ermine, mouse, iguana, lynx, jaguar or hare.
Dæmon Appearance:
Raccoon-
Cat-
Fox-
Ermine-
Mouse-
Hare-
Iguana-
As an iguana, Eomer is huge. He is often in this shape when Maryna wants to scare the girls, or show off to other people.
Lynx-
Jaguar-
Dæmon Personality:
Eomer is almost exactly the same as Maryna. He is short tempered and inquisitive, perhaps a bit more than Maryna. However, he knows when enough is enough. He tries to keep Maryna away from trouble. He tries, but often fails, as he is almost as troublesome as Maryna. He doesn't mind getting dirty when if first happens, but after a while, he gets sick of it and washes it all off. He's just as fun loving as Maryna. He helps her expand her imagination even more.
____________________________________________
Role Play Sample:
"Maryina!" hissed Eomer, an ermine curled around her neck. "You know how much your parents hate you in the Forbidden room!"
The Forbidden room was a room that her parents didn't let her go into. They said that Maryna was too clumsy to be let in, but she knew there was something else they were trying to hide from her. "I know, Eo!" she hissed back. Eomer fell silent.
The small girl slipped along the dark hall, keeping close to the shadows. She wore a brown dress, with baggy brown pants underneath. Perfect for camouflage. She was so close to the door now, just a few steps... All was silent. Good. She raced to the door, and started to panic as she heard footsteps. She slid into the room quickly, the door making an unnecessary loud creak when she closed it. The footsteps stopped. Maryna stood inside, her ear pressed against the door, praying that they weren't heading this way. Relief flooded through her as the sound of the footsteps faded away.
After being absolutely sure nobody was there, Maryna looked around the room. There was a circle of chairs around a round, blood red carpet, decorated with floral patterns. Of course. Maryna's mother loved flowers.
Beside each chair there was a low table, and on top of ever low table there was a colorful vase. Maryna saw that there was a flap under each vase. Knowing that something great would be underneath the flaps. She picked up a vase. But of course, guess what happened.
CRASH!!
The beautiful vase lay shattered on the floor at Maryna's feet. She gasped. She was in big trouble now. She backed away slowly, and wadd'ya know, she knocked the table over, making a louder crash. Maryna could hear footsteps approaching rapidly know.
"MARYINA!!!"
Her father shout echoed through the house as the door flew open.
Uh oh.
Eomer said to her through telepathy.
We're in trouble now.
Death Note