Post by Lee Scoresby on Jan 17, 2008 18:32:24 GMT -5
Another persons character
Name:
Guenivere Devonshire
Age:
27
Gender:
Female
Race:
Human
Homeworld:
Lyra's world
Weapons:
Anything you give her she can use, but she usually carries a sword, two pistols, and a dagger on her hip
Appearance: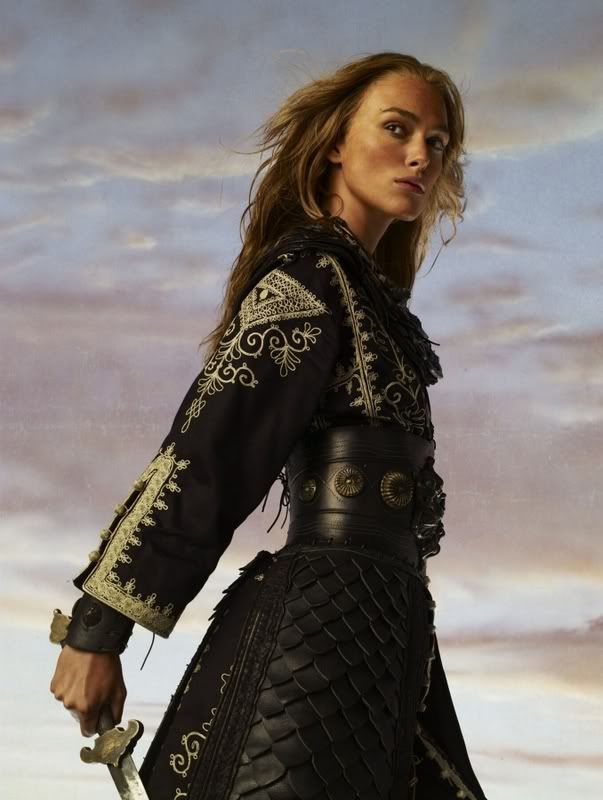 Described as petite with thoroughbred legs, Guenivere is really something to look at. Topping out at five foot two inches, five foot six inches with her boots on, Guenivere really is petite. She is thin, but not thin enough for her ribs to be seen, her body slightly muscled but not enough for her to look silly in a dress. Her skin is tanned for years under the sun, her entire form permanently smelling of salt and sea air. Her hair is a dark, raven black, bleached with chocolate sections from the sun and lapping to the middle of her back in silky curls. Her eyes are a deep,
grey, blue,
lined with thick, black eyelashes that make them stand out defiantly against her face.
Her height and lack there of is made up mostly of long, lean legs, and a short torso. Her usual apparel is a white shirt with a black vest over it, a pair of skin tight breeches, and high-heeled black boots that rise up to her knees, paired with a black over coat, usually unbuttoned, that falls to about her midthigh. Around her waist she wears a brown leather weapon belt that carries a sword and a pistol; in her boot she carries a dagger. Her jewelry is simple, consisting only of a emerald and silver ring and a silver cross that belonged to her mother.
Personality:
Guenivere is a silent worker. She works in subtle ways to get the things that she desires most. Whereas most people will barge through and claim, Guenivere will scheme and use her wits and cunning to bring about the change that will suit her needs.
She can be deemed as cold and unfeeling but there is a deeper sense to the outlier. One must dig deeper then face value to see the true colors, no matter what shade they are. Few have recognized her true beauty held within the dark depths. Accepting of anything with a dark nature Guenivere embraces the ways of battle and death like someone familiar with its intricate designs. She is controlled in how she shows people her true workings, choosing only to reveal them to those that are truly worthy.
Guenivere doesn't do anything by half. If she embarks on a challenge, she will do whatever it takes to accomplish it.. If she loves, she loves with her whole being.. if she hates, then the worse death is reserved for that being. She is a truly valuable asset to a fighting force becoming indifferent to life and death.
However, despite her driven nature, she has a tendency to let her own arrogance that runs so rampant in her family get in her way. Because of this, she can also be very vain and insubordinate, which can get her in trouble. She has the tendency to be stubborn as a mule and is unwilling to listen to others, even if she knows they're right.
She is known to be haughty and arrogant, with a Cheshire cat grin. She is known to have a way of carrying herself with poise and grace that can take one's breath away.
She takes criticism well and believes in listening to other's opinions, as long as they contain nothing untrue or full of gossip. Usually, she's carefree and likes to joke and tease with her friends, providing things are going well and everyone, including herself, is being productive. She isn't always the most patient of people and prefers to be working with her hands rather than standing around, so she'll contribute to her fair amount of chores, and won't hesitate to help out when someone's in a pinch.
Though Guenivere isn't the smartest woman alive, she certainly isn't stupid.
History:
Guenivere was born on a cold, September night as the second child of William and Catherine Devonshire. From a young age, she showed a promise of extreme intelligence. She could read by the age of two, and her father often took her around as his little prodigy child to read sonnets to other families. He constantly claimed that James, the older son, had inherited all the brawn but Guenivere had gotten all the brains.
She was born as a child of privilege, and never went on wanting. She had a beautiful singing voice and common sense. However, there was one thing wrong with this seemingly perfect child, she was anything but attractive. Her nose was far too long and large for her face, her skin stretched too tight on her features, giving her a gaunt appearance. Because of this, she had no childhood sweethearts and had to learn to defend herself against her envious older brother, James.
At the age of fifteen, she met a merchant in town, and had a chance to sit down and talk with him. She was instantly fascinated by his stories of the new world. She went home that evening and told her mother and father she intended to become a merchant sailor. As displeased as they were, they allowed her to pursue her dream with the reassurance in their minds that she would hate it and come back home.
After her first trip off land, Guenivere realized that she had found her calling. She continued running trips for ten years, making enough to get by on. She has been in this occupation ever since, often running trips with the Gyptians and for the Magistrate.
Other:
Nothing
Dæmon Name:
Avamaria
Dæmon Animal:
White tiger
Dæmon Appearance:
Avamaria takes the form of a white tiger, but a small white tiger. Much like her owner, she is long, and lean, with a twitching tail that gives her the allusion that she is always deep in through. However, despite her long, lean form, there are apparently muscles beneath her stark white coat. Her eyes are not an amber like a usual white tiger. Instead they're a bright, sapphire blue like her master's.
Dæmon Personality:
Much like Guenivere, Ava is contemplative, slightly arrogant, with a constant flirtatious look in her eyes. However, her eyes and actions reveal that she is extremely intelligent, much like her master. Not only intelligent, but street smart as well.
However, Ava has an explosive temper when provoked, and has been known to be extremely lethal in a foul mood. She seems to know no fear, and is often too prideful to show if she is afraid.
Role Play Sample:
The sea was calm today, which was odd for this time of the year. The winder was usually the worst time for storms, and usually this was when they were the most deadly. When the storms came, it was always a torrent of freezing cold rain and twelve foot waves that could often consume a ship. Guenivere herself had never encountered one of these storms, but she had heard plenty of stories. She stood at the helm, Avamaria sitting alertly by her side, tail swishing.
"It's usually never this quiet."
Her daemon pointed out, causing Guenivere to nod. "Yes, its rather odd." The young woman replied, hands moving from the wheel to flex and get blood flowing back into her fingers. "It's plenty cold though." She continued. The white tiger nodded, moving closer to Guenivere to keep her legs warm.
death note