Post by Aeron Jakobs on Feb 19, 2008 13:11:02 GMT -5
Name:
Aeron Jakobs
Age:
17
Gender:
Female
Race:
Human
Homeworld:
Lyra's world
Weapons:
Two hand axes, a large hunting knife, a pistol. Also trained it hand to hand combat.
Appearance:
Although her features are hardened by the harsh landscapes of the north she has a fair face. her small figure is strong and well formed. Her eyes are a deep brown and her hair long is a hazlenut colour, always drawn back into a ponytail. Her lips are thin. She looks fearsome when wearing a frown and almost dazzling when smiling. her skin is pale and weathered but smooth. Though she is physically small she is strong although she doesn't appear overly muscular. She usually wears a cuirass made of rough leather, cotton trousers and fingerless gloves as well as the red linen armband with the mercanary symbol of rec circle on brown cloth. In battle she wears ight yet strong plate mail and a helmet in the shape of a lynx.
Personality:
Aeron is strong willed and likes getting her own way. She accepts that others have more authority than her but doesn't really like it. She makes her own rules and often got into trouble as a child because of it. She is, like her brothers, quick to anger if provoked but unlike them she is extremely talkative and sociable. She loves exploring. She is quick to talk to anyone she meets but doesn't trust easily. She doesn't laugh much but has a good sense of humour. She is very passionate about her beliefs and will argue or even fight with someone who disagrees with her. She finds it hard to hide her emotions and often gives things away accidentally with a look or expression. She refuses to wear dresses unlike most girls.
History:
Aeron is the youngest of three children. She has two brothers. Being the only girl made her more determained to suceed and prove that girls can achieve too. She is part of the Jakobs family of mercanairies and grew up at their homestead in Norroway. As a child the only people she knew were the other members of her family and so she built up trust with each and every one of them steadily. Her eldest brother became a great mercanairy and Aeron wanted to be just like him. She didn't have anywhere near his strength and ended up being more like her other brother. When she was twelve and her Dæmon settled she started training.Rather than focus on healing or ranged combat as most girls in her family did she trained extensively with axes and swords. She spent four years training to become a warrior. AA month before her seventeenth birthday she completed her training by forging her own weapons and armour. She went out several times on jobs, always acompanied by at east one older member of the family.
Other:
For those in the aurora, the youngest brother is Caz
____________________________________________
Dæmon Name:
Reon
Dæmon Animal:
Eurassian Lynx
Dæmon Appearance: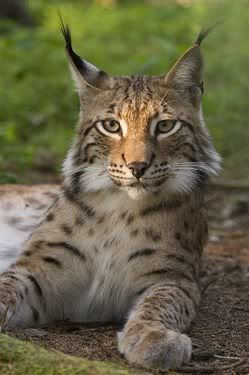 Dæmon Personality:
Reon is much like Aeron, he is easily annoyed and very active but more reserved. He doesn't talk as much Aeron and often calms her down and stops her from doing something she will regret. He is the voice of reason in Aeron's life. He is a feirce fighter and will protect Aeron from anything.
____________________________________________
Role Play Sample:
Aeron sat in the steaming kitchen. She was waiting for her father to arrive back from the hunting party. Reon sat at her feet. People bustled about making diner. Aeron ignored them, they were in her family but only by marriage. She didn't have much to do with them. Another was sat in the kitchen, a man in his early thirties. He had messy ginger hair that fell to his shoulders. He was eating a stew but kept flicking his blue eyes up to Aeron, silently questioning why she was waiting in the kitchen. his kite Dæmon stood on the table staring silently foreward.
A loud shout was heard from a corridor leading to the kitchen, Aeron couldn't make out what was said but knew the voice, it was her father. The other man looked up momentairily then returned to his food. A large man entered the kitchen. His hair was short and going grey but if anything it made him look more powerful. he was carrying a dead boar over his shoulder.
"Aeron!" he shouted, "make yourself useful and put this in the storeroom"
"Yes father," she sighed as she rose and walked over to take the boar. She struggled under its weight as she moved to the soreroom at the end of the kitchen. Luckily the door was slightly open. Aeron squeesed in and dropped the boar immediately.
She pushed it to one of the low shelves and exited the soreroom again. She found her father ocupying her seat when she returned to the table, talking to the other man, "...Right through the head, an exelent rifle." she stood by the table and coughed.
"Father," she said, sounding unusually sweet.
"What is it?" Asked her father, turning to face her with a suspicious look. He knew she had done something or wanted something big.
"Now that i'm old enough I... I'm going to look for Caz," she said quickly. "I have one years leave. We know he is in Brytan and I don't think he's dead. He won't have left either."
Her father looked at her, his expression solid, not revealing his feelings.
"That leave is for you to fnd a husband, not go rnning after your brother. Darren's gone, Aeron, accept it."
"I don't think I want a husband, and Caz still has his leave, he could be using that. You can't stop me, I was just telling you where I was going."
The other man spoke, "Caz'll have gotten himself lost if he's alive. As usual".
"Oen," Aeron replied, "Shut up. You wouldn't be much better than him." She turned for the door.
"I will be back," she assured her father, "And i'll be bringng Caz with me."
death note